We offer competitive skydive prices for skydivers of all tiers! First timers, beginners and experienced jumpers are welcome!
Tandem Skydiving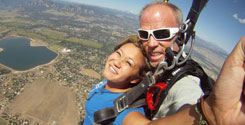 Tandem skydiving is one of the safest ways to experience the thrill of flight! You and your instructor climb high above the earth while the anticipation builds! Before making your leap the tandem instructor will ensure you are securely attached together and brief you about the jump you are about to experience. "Ready! Set! Arch!" and out the door you go! Reaching speeds of up to 120 mph this is an experience you will never forget!
Tandem Skydive: $259.00
Second Tandem Same Day: $200.00
Still Pics: $75.00 (hand cam)
Video: $100.00 includes photos (hand cam)
We offer Discounts for groups of 5 or more, Military, Police, Firemen and Students! ID required
**All prices reflect cash payments.