Glenwood Springs, Colorado
The ONLY Skydiving Facility jumping in the Heart of the Rocky Mountains!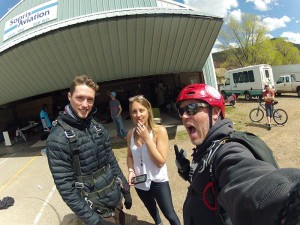 Roaring Fork Skydivers is one of Colorado's finest skydive facilities. We are located IN beautiful Glenwood Springs, Colorado, JUST 3 miles off of I-70! Enjoy the MOST SCENIC skydive in the state. Call us today to book your tandem skydive adventure.
We pride ourselves of our professional and experienced instructors. Come join us in the sky!
Location & Directions
1172 Airport Center Road, Glenwood Springs, CO 81601
Directions to our office: From HWY 82 turn Right on 27th St. Go thru the next stop light and into the roundabout. Turn Left out of the round about. This is Midland road. Go 2 miles. The road will turn from Midland to Airport Road. On your left will be a large steel building, turn Left just beyond the building. Follow that road around to the other side of the airport and park in the parking lot just past the lot with the U-Haul equipment (red pin on above map, the hangar is at the green pin). Give us a call from there. We will guide you in. Safe travels.
Jump From a Perfectly Good Airplane high above Glenwood Springs, CO!
(970) 364-3737
We operate 9 months a year!
Winter hours: Friday, Saturday & Sunday 8AM-4PM. Reservation Required.